This post on 5 Fun Games for Baby Playtime contains affiliate links.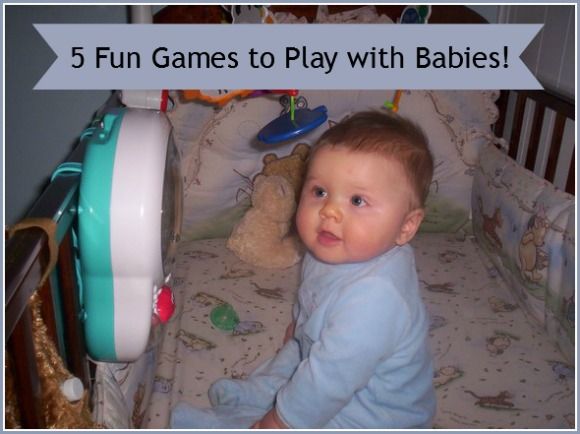 Babies are new to the world and are busy exploring and learning about their surroundings. As parents, we are concerned about caring for them and keeping them safe. But it is also important for them to play. Games for baby are not just about having fun, though. Each one of these activities will also help them reach their milestones.
Check out these 5 fun games for baby playtime!
Sound Games for Baby
This is a great game to play with a very young infant since they have limited mobility. All you need is a rattle or something else that makes noise (even clapping your hands will work.) Place the rattle near one of their ears (but not too close since their ears are sensitive.) Shake it gently until they either start to move their eyes or their head towards the sound. Then show them the source of the sound so they can associate it with what they are hearing. Continue doing it on the other ear.
Mirror Games
These can be played with babies of all ages. Simply position a mirror someplace where they can see it. I recommend using something that will not break, shatter or crack, like one that is made out of plastic. Younger infants are memorized by faces. As he is looking into the mirror, talk about his facial features.
For older infants, look into a mirror together. I usually use the floor-length mirror I have in our hallway. As we are looking, I point out our eyes, hair, nose, belly and legs. I will also make funny faces in the mirror, which always makes my little one giggle.
Peek-a-Boo
One of the best known games for baby, peek-a-boo does more than just make your child giggle. It also helps them work on their cognitive skills. After a while, they will realize that you will reappear, but the exciting part is anticipating when you will suddenly jump out and say "Peek-a-Boo!"
Dancing Games for Baby
Even if your baby can't stand, they can still dance! For babies who can't sit up on their own yet, place her in your lap and take her hands while you both sway to the music. Since baby will not be facing you, try to do this in front of a mirror so they can see you and watch themselves.
To dance with babies that can sit unsupported but are not standing up yet, sit down on the floor facing your child. Grab their hands and move from side to side. You can even gently lean back, then forwards a little bit. These types of games for baby are also good for stretching their muscles.
Play Ball
Even if your baby can't throw a ball back at you, this can still be a fun game. My daughter would laugh each time I would roll a ball towards her. At first she wouldn't do anything except laugh, but then she started to swing her arms, attempting to roll it back. Eventually, she was able to push the ball back towards me. Even though she is no longer an infant, she still enjoys this game.
The above games for baby are fun, simple and easy. Remember, the whole point of playing is to explore, learn and have fun. If they don't seem to like a particular game, then don't force it. Move on to something else that they will enjoy.