This autism-friendly craft for kids post contains affiliate links to help you find supplies.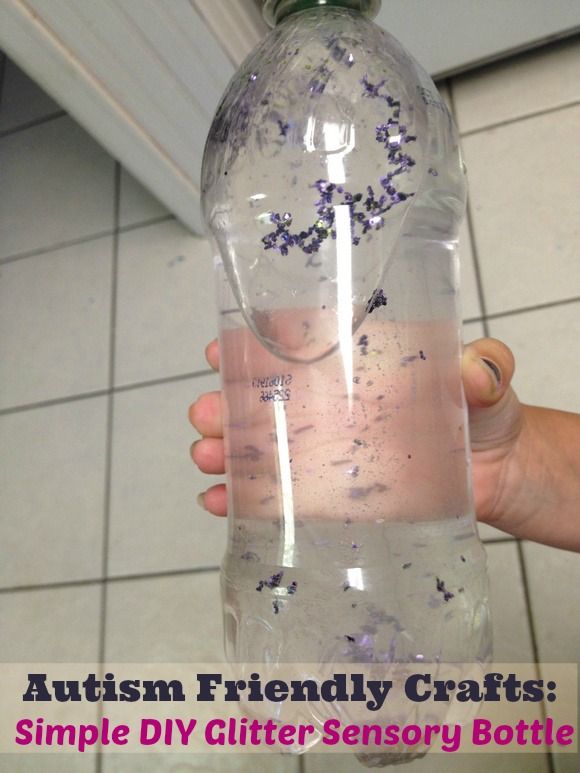 All children enjoy crafting and creating treasures of their own. Exploring art materials and being able to manipulate various art supplies are a wonderful way for your child to learn. Children with autism may handle various crafting activities a bit differently. They enjoy gentle stimulation's and experiences that help them feel calm. Also, activities that allow the use of fine motor skills are also beneficial, giving the child a chance to strengthen this skill while "playing."
Below, you will find the perfect hands on activity for a child with autism or even a typical child to enjoy. A Sensory Glitter Bottle is the perfect hands on, stimulating activity that your child will want to create over and over. Take a look below at how easy and inexpensive it is to whip up your very own. It is so fun, you will want to make several!
Autism-Friendly Craft for Kids: Simple DIY Glitter Sensory Bottle:
Supplies Needed:
1 soda bottle
Food coloring
Baby Oil
All of these items can be found at your local dollar store, making this not only an easy project but an easy to afford one. The 22 ounce bottles seem to work best for this project, so be sure to save yours when you are done.
Directions:

First, rinse the bottle well and fill is 3/4 of the way full of water.
Fill the remainder of the bottle with baby oil.
Now, add a drop or two of food coloring. The more you add, the darker your mixture will be.
Add a teaspoon of glitter to the bottle.
Replace the cap (you may glue it back on if you wish so you don't need to worry about it coming off) and shake gently. That's it! Your Glitter Sensory Bottle is now complete.
As you can see, with your assistance your child can do all of these steps herself. Just help get the lid on tightly before shaking. Allow your child to then shake the bottle and be in awe as the glitter starts whirling and swirling! It will begin to dance all over the bottle as long as your child keeps it moving. This can provide a very soothing experience and a wonderful visual show for your child. It will also allow them to control the movement of the glitter with their movement, which is a great cause and effect lesson.
When you give this Glitter Sensory Bottle craft for kids a try, you are opening up many fun experiences for your child as well as teaching them valuable skills. This project is so simple, yet provides so much.
You can extend this activity if you wish by adding small items such as beads, marbles, or other small toys to the mixture. These objects will then dance and swirl as the water moves and your child shakes the bottle. Only add these items if there is not a choking hazard with the child who will be using the toy. You can also add various glitter colors, or decorate the outside of the bottle with stickers, paint, or other decorative embellishments.
Give this Autism friendly craft for kids a try, as your child is sure to love making their own simple DIY Glitter Sensory Bottle. Looking for a great Autism awareness craft for kids? Check out our DIY Autism Awareness Frame!