We received a Jimmy's Gone Green book for kids and Jimmy's Green Challenge Starter Kit to facilitate this review. All opinions are our own.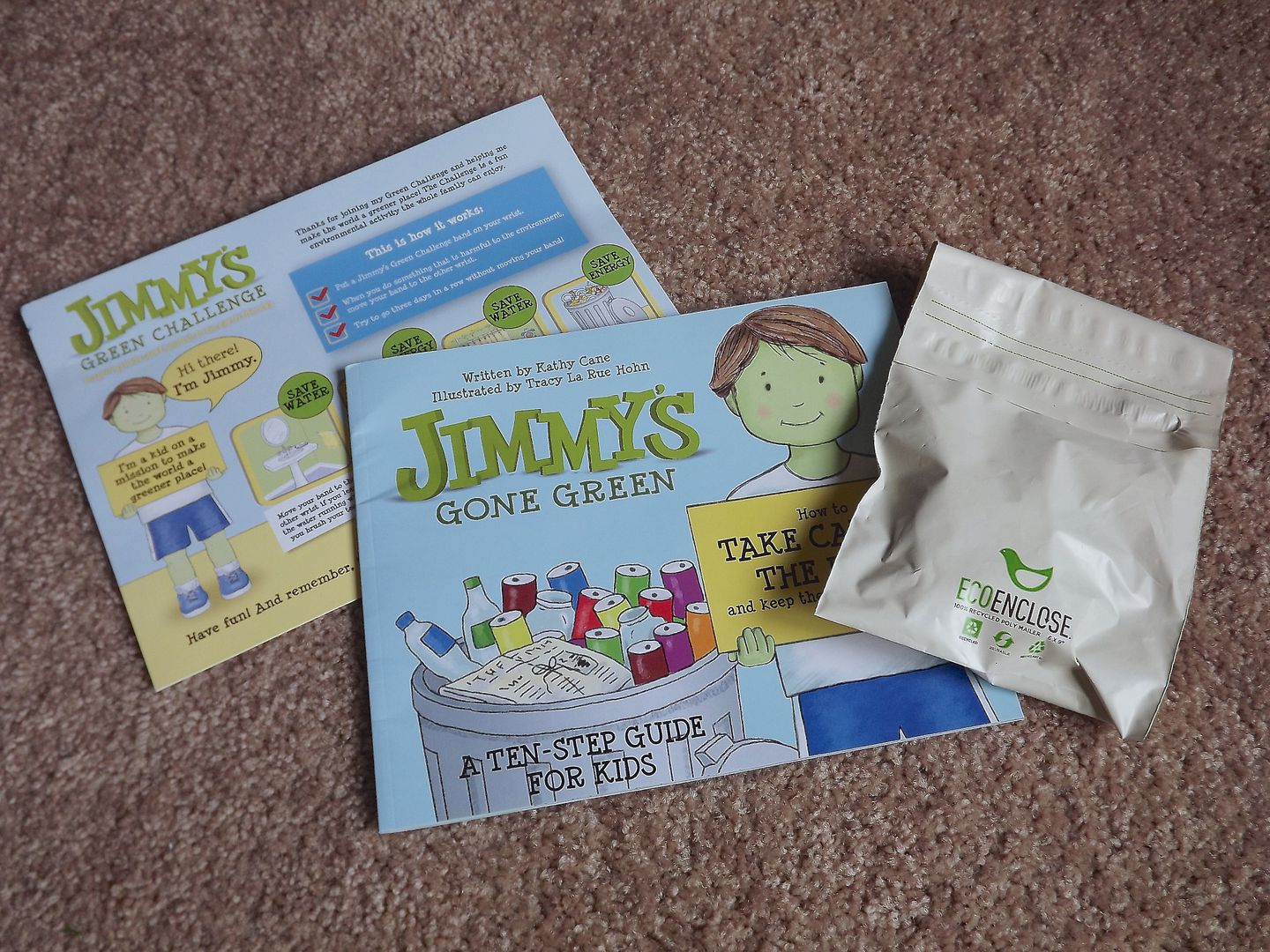 Although Earth Day has come and gone, there's no time like the present to start educating your little ones on what steps they can take to help protect the earth.  If you'd like a fun and interactive way to tackle this topic, check out Jimmy's Green Challenge and starter kit.
Jimmy's Gone Green Book for Kids: Great for Teaching Kids about the Environment!
The kit contains Jimmy's Gone Green: How to Take Care of the Earth and Keep the Environment Clean written by Cathy Cane and illustrated by Tracy La Rue Hohn. It's a Best Picks winner by Dr. Toys, and quickly got my son's attention with 36 pages of colorful illustrations and playful rhymes.
Along with the book, the kit also contains 4 wristbands, a refrigerator magnet of Jimmy, and a small poster for quick reference on how to "Go Green."  Both the book and complimenting poster encourage children and adults alike to take Jimmy's Green Challenge.  To do this, you're encouraged to go three days without having to switch your wristband to the other wrist. Things like leaving the water running while brushing your teeth, or leaving lights on result in having to move your bracelet over. That doesn't sound too difficult, does it? You may be surprised!
My son (5 in August) quickly got on board with the concepts outlined in the book.  We discussed the tips provided on the included poster, and I liked how it was small enough to attach to our refrigerator for quick reference. We then tossed on our wristbands and agreed to give Jimmy's challenge a try.
I was pretty amazed when I overheard my son in the bathroom one evening remind my husband not to leave the water running while brushing his teeth. Yep, proud parent moment right there!  Such a small step was apparently driven home with the help of 'Green Jimmy' as we now refer to him in our home. This is definitely one of the best books for kids about protecting the environment!
This starter kit was simple and fun to use, and it makes a great resource for introducing conservation to young minds. You can purchase the kit for $19.99 by visiting Jimmy on his website at Jimmysgreenchallenge.com. Jimmy's conservation tips can also be found  Twitter, Facebook and Pinterest.