We received a complimentary sample of the Magna Color Magnetic Design Station in exchange for an honest review.
Let's face it, children are naturally creative. They love to color, they love to manipulate art materials, and they love to make their own masterpieces. And while paper and crayons are great for this, today's child loves a bit of an edge. Magna Color is the perfect toy for children who love to create but want something that is exciting and different. How is Magna Color different? It uses the excitement of special pens, color dots, and fun stencils to bring your child's creations to life! With Magna Color children can use the color pens and stencils to create designs of all sorts. The small dots made by the pens are removable and reusable so you can make as many creations as you can think of.
When you are finished, all of the mini dots get swept to the side of the screen and will file back into place for easy pen filling. It is truly a no mess toy that provides hours of no mess entertainment.
Magna Color Magnetic Design Station Features
This product retails for $29.99, and includes the following items:
Specially-designed magnetic drawing studio screen
A screen sweeper
4 design stencils
4 colorful pens
Magic Dots in 4 different colors
Setting up your screen is as easy as taking it out of the box. You simply pour the mini dots on the screen and press them to the side where they will file into the color pens. Then you are all set! Here is what my children (and I!) enjoyed about this product:
It is so easy to use
The option to get creative or follow an easy to use stencil
The basic assortment of colors
Clean up is a cinch
It gives children a chance to be hands on and use fine motor skills
Magna Color iPad App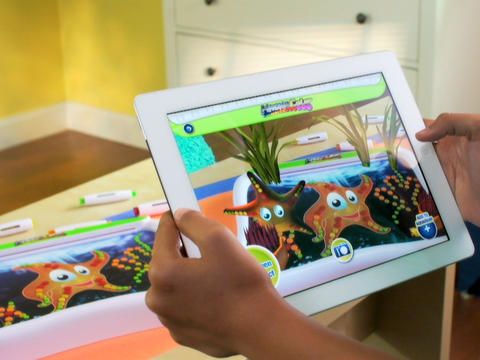 If you have an iPad, the Magna Color Magnetic Design station has a really cool app that your kids will love! Download the app and your kids can scan their creations into it. From there, they can do all sorts of cool things. Their creatures come to life in full 3D images. Even cooler, kids can interact with them! Feed your creation, care for it and watch it grow. This really takes the Magna Color to a whole new interactive level.
If we could improve this product in anyway, we would suggest that more colors come in the basic kit. You get four in this kit and of course, my children wanted colors such as purple and pink which don't come with the basic set.
Otherwise, we were quite happy with this fun product and enjoyed it (and are still enjoying it) whenever the creative rush hits!
Find the Magna Color Magnetic Design Station and additional design packs at Tech4Kids. Like Tech4Kids on Facebook and follow them on Twitter to keep up with news. Want to see Magna Color in action? Check out the Tech4Kids YouTube Channel!
Giveaway
Enter below for a chance to win a Magna Color Magnetic Design Station! This will make a great holiday gift for your kids. Giveaway ends Nov. 5th. Open to US residents age 18+.