This post is brought to you by the Kickstarter campaign for Tatay's Gift, a beautiful book for kids that teaches about the joy of giving. All opinions are our own.
In the wake of current disasters such as the typhoon Haiyan in the Philippines, many families around the world are wondering just what they can do to help. We see the stories on the news, the devastation that affects so many lives. We cry for the families that were torn apart. Yet at the same time, we feel a bit disconnected from the events as we sit thousands of miles away in our comfortable living rooms. We feel almost powerless to do anything. We think, "how can I- one person- make a difference when there is just so much that needs to be done to repair the broken nation?"
The thing is, one person really can make a difference. See, one person plus one person plus one person adds up pretty fast. We are all one person, yet together we are many. The sooner we understand that, the sooner we can all make a difference in the world.
Tatay's Gift shows children how one person can make a difference
Tatay's Gift, a book for kids created by Krystal & Brad Woodard, was born out of the desire to help those affected by the typhoon Haiyan as well as teach children the joy of giving and how one person can make a difference. The inspiration behind the book came from Brad's time in the Philippines. Tatay is Tagalog for "Dad."
The story follows a young Filipino boy as he goes to work with his Tatay every day. Each day is a new adventure. Sometimes they sell Popsicles by the beach. Other times they drive a jeepney that Tatay rebuilt by hand (really neat, often colorful Jeeps that have been transformed into public transportation).  Throughout the story and the different jobs, the boy learns about the importance of serving others. For example, each day Tatay saves one seat on the jeepney for an elderly man who never has to pay.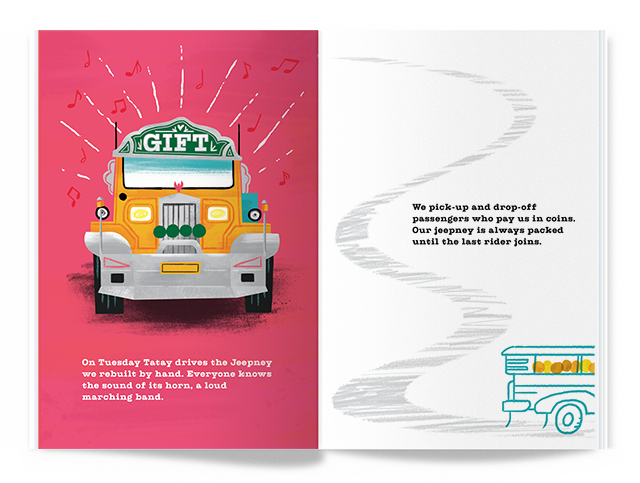 Help get the message of Tatay's Gift out to the world
Right now, the Woodards need your help in getting Tatay's Gift out to the world so that they can in turn help those affected by the Typhoon Haiyan . They've set up a Kickstarter campaign to raise awareness about and funds for the book. The funds collected will help them get the first run printed. They've already reached more than half their goal but still have a ways to go. Backers can donate as little as $5 to the fund to as much as $1,000 or more.
Each level of donations comes with different perks. For example, you'll receive a personal "thank you" along with updates about the project when you pledge $5 while $1,000 or more gets you a personal consultation with the Woodards to discuss your writing technique, plus rewards from other levels. You choose how much you can afford to give. Remember, even if it's only $5, one person really can make a difference.
The funding period ends on March 28th, so please help out in whatever way you can right now. This is such an important book for kids to teach them about the joy of giving and help those affected by the typhoon. Even if you can't help financially, you can spread the word by visiting Kickstarter page  and sharing via social media. Visit  Tatay's Gift on Twitter and Facebook for more information and sharing opportunities.
Giveaway: Enter for a chance to win one of two gorgeous prints
Enter below for a chance to win your choice of a Dino Alphabet Poster or Space Alphabet Poster illustrated by the Woodards. Both 18×24 screen printed posters filled with fun pictures and facts about each subject. Giveaway is open to worldwide and ends March 28th. Click here for complete official rules.
How do you teach your kids about the joy of giving?